Maryland Dryer Vents Cleaning
We are Your Maryland Dryer Vents Cleaning Service.
Duct in a row?
From routine maintenance to emergency interventon, we cover not only the essentials but your concerns as well.
Your ducts work hard, so let our best defense assist them and keep you, your family and belongings happy, safe and healthy. In the Maryland/Virginia area, we may not be the biggest, but we are ranked high. Give us a try and see why we stand behind our technicians.
With a broad location base, our professionally trained and certified techs truly care about the environments and communities they serve as well as the clients. During these uncertain times of viral contagions, airborne flus and mutations of respiratory illnesses, we take the most upper echelons of precautionary procedures both in the field and in office.
Social Distancing Observed and Expected.
Fully masked with proper ID credentials and vehicles.
Sanitized foot coverings.
TYVEK suits.
TOP NOTCH tools, brushes and other materials.
Our service staff is aware of your space and goes above and beyond to keep their work-space is pristine, neat and tidy…before, during and after each call. Don't put off scheduling a dryer duct service. The time to act is NOW as society prepares to go into winter teetering on the brink of unsurety. You don't want to risk getting booked out for weeks.
Notice changes in any of the following?
Higher levels of in-home humidity while doing laundry.
Damp lingering odor on clean clothing.
Slight smell of "electrical ozone" or burnt rubber.
More time needed for each load of laundry.
Internal dryer drum is almost too hot to touch.
Excessive heat and/or dust along surrounding walls.
Less exhaust from the exterior vent port.
Significant rise in energy bill.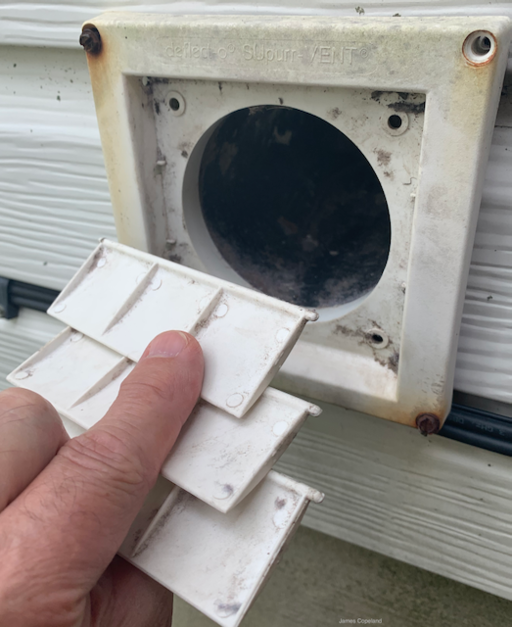 Image source : https://commons.wikimedia.org/wiki/File:Home_clothes_dryer_outside_vent_showing_3_flaps_back_side.png
The Joy of Fresh Air
Call To Get Your Dryer Vents Cleaned Today
These are the first stages in the warning zone. As a general rule of thumb, a professional vent cleaning service should be performed every 18 months to 2 years although now we do recommend a more rigorous approach. While we are in the numbers game, take a look at these: 700 million. 20,000. 92.
700 million dollars in direct property damage due to 20,000 house fires where 92 % were attributed to dryer related issues…all surrounded and compounded by ONE SMOKING GUN….LINT! And taking into consideration that with economic downturns, families are extending their stay at home times, co-habitating to conserve finances and taking every precaution necessary to stay healthy by
Doing more laundry.
Taking advantage of high efficiency machines to kill or eradicate any lingering germs.
Using the dryer more as we creep into cooler winter weather systems.
At DMV, we understand that not everything comes out in the wash. Although a good percentage of our call base is dryer related, the same detailed work is offered for your in home or office heating/cooling system as well. If you've ever had the pleasure to be in the mid-East during the shoulder season of frosted winter and hurricane force n'or easters with a non-working furnace or wonky thermostat, then you can truly appreciate what ONE SINGLE CALL can do for your sanity, safety and comfort. Ozone related gasses and furnace ignition failure can turn into a massive economic disaster if you don't catch it in time. Certainly not to be put onto the "I'll get around to it tomorrow" list.
Our caring customer booking family will work with you, around your schedule, requirement, budget and financing options as well as location suggestions. Discounts? You betcha! We routinely offer discount rates for first time clients, regular specials and even pop up bonus deals. You never know until you ask. Live in a duplex or another multi-family unit? How about a custom group service rebate? Lazy days of summer roaming about in your RV and need a service call to your travel destination or campground? Give us a try.
Fully accredited, licensed, and bonded, our service record speaks for itself and we stand behind our workmanship guarantee. If you're not happy, then we WILL find the solution for you. It's been a rocky 2020 but we KNOW that your health and safety, along with our reputation, is in OUR corner. Give us a call NOW or follow the easy ONLINE FREE QUOTATION process. Within 30 or so seconds, you can have peace of mind knowing that we'll be there for you. 24/7.
New Customer Special
- 15% Off -
Dryer Vents Cleaning Service
(February 09, 2023)